Scientists
Dr. CHENG Lei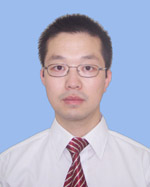 CHENG Lei, male, born in 1982, Doctor of Agriculture Science, Doctoral Tutor, the Associate Professor and Deputy Director of the Department of Microbial Research Center of Ministry of Agriculture. CHENG had earned a Doctor degree of Agriculture from College of Resources and Environment, China Agricultural University In 2011.
Applying by the techniques of Hungate anaerobic operation, stable isotope tracing, molecular microbial ecological method, CHENG has carried out the collection and functional assessment of anaerobic microbial resources and oil crude degradation mechanism and related applied research.
CHENG has hosted 3 vertical projects, including the National 863 Key Project Sub-project as flooding technology of medium-high temperature oil reservoir microorganism with the total funds of 930 000 yuan, the National Natural Science Foundation Project as the mechanism research on directional separation and response to high-pressure stress of syntrophic alkane-degrading bacteria Syntrophaceae with the direct funds of 650,000 yuan, and the predevelopment project on microbial resources of national key laboratory as the directional selection and classification study of syntrophic short-chain fatty acid degrading bacteria based on microfluidic droplets system with total funds of 100,000 yuan and presided over 2 projects from Sinopec and Sichuan Haisco Pharmaceutical Company(total funding more than 2.1 million). CHENG has published 8 pieces of SCI papers in AEM, FEMS, ME, IJSEM and other journals and made 6 oral reports in the domestic and international academic conferences, 3 patents and 1 Provincial-level Second Prize(the fifth completed).