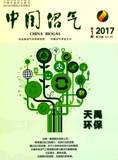 China Biogas 2017
was invited to BIOMA by our energy microbial innovation team from July 26th to 29th. He gave two academic presentations - How to describe species of prokaryotes, our energy microbial innovation t...

On April 20, entrusted by the national science and technology innovation alliance for the utilization of livestock and poultry waste, Biogas Institute of Ministry of Agriculture and Rural Affairs (BIOMA) hold the " forum of using livestock and poultry manure a...
On April 8, the opening ceremony of the "Seminar on Biogas Industry Promotion and Management for Developing Countries in 2018" was held in Chengdu. The course i...

Biogas Institute of Ministry of Agriculture of China (BIOMA) held the closing ceremony of "Training Course on Biogas Technology for Countries along the Mekong R...
Results promotion & transformation
more